Staff Directory
Ms Naomi Wolfe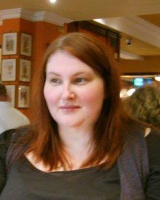 Lecturer
Phone

Fax

+613 9953 3025

Organisational Area

Faculty of Education and Arts

Department

School of Arts (VIC)

Location

Melbourne
Building 412 - Arts Precinct (34-36 Brunswick Street, Fitzroy VIC 3065)-Ground-Room 412.G.07
Naomi is an Aboriginal woman who grew up in Tasmania and moved to the 'mainland' to study with the intentions of moving back home to teach. Fifteen years later she is still living in Melbourne providing a place of hospitality for family and friends travelling back and forth Bass Strait.
After completing a Bachelor Arts and Bachelor of Teaching she worked briefly in an inner city school. She worked as a sessional tutor within the School of Arts & Sciences and encouraged by many staff, embarked upon a Masters of Philosophy (Research) degree writing about the lives of the Hasmonean and Herodian women of the Late Second Temple Period supervised by Professor James McLaren & Associate Professor David Sim. After much disruption she has resumed this study and hopes to complete in the very near future. At the same time, she became the Co-ordinator of Jim-baa-yer Indigenous Unit for the Victorian campuses and saw this as an opportunity to give something back to her community and use her skills to assist other Aboriginal people achieve their academic potential.
Naomi comes from a big Aboriginal family on her dad's side and an equally large non-Aboriginal family on her mum's side so she is well versed in negotiating family discussions and in cooking for large groups! She is the proud aunty of numerous nieces and nephews and at last count Godmother of 13. She believes in encouraging people and in seeing the good in all. Naomi encourages a collaborative learning between Aboriginal and non-Aboriginal staff and students at the University to break down barriers destroy stereotypes and to cultivate new relationships based on respect. She has a professional and personal interest in Indigenous cross cultural training & awareness as well as Indigenous pedagogies and theology. Her personal interest in ancient and women's history is something that she will discuss at length given the opportunity.
AWARDS
2012
Vice-Chancellor's Staff Award for Outstanding Community Engagement.
Wolfe, N., Sheppard, L., Rossignol, P. L., &amp Somerset, S. (2017). Uncomfortable curricula? A survey of academic practices and attitudes to delivering Indigenous content in health professional degrees.&nbspHigher Education Research &amp Development
, 1-14.
Musgrove, N., &amp Wolfe, N. (2010). Takin' Care of Business: Collaboration, equity and respect for Indigenous culture in tertiary education. Paper presented at the A scholarly affair: Cultural Studies Association of Australasia 2010 national conference, Byron Bay, NSW
Frawley, J., &amp Wolfe, N. (2009). Walking the talk: Australian Catholic University&rsquos model for Aboriginal and Torres Strait Islander research. In J. Frawley, M. Nolen &amp N. White (Eds.), Indigenous Issues In Australian Universities: Research, Teaching, Support. Darwin, NT: Charles Darwin University Press.
&nbsp
Education
Australian Teaching Education Association (ATEA)
Australian College of Educators
Health Promoting Schools Association
Dare to Lead Coalition
Higher Education Research and Development Society of Australasia (HERDSA)
Koorie Heritage Trust
History Teachers' Association of Victoria (HTAV)
Australasian Interprofessional Practice and Education Network (AIPPEN)
Cultural Studies Association of Australasia (CSSA)
Study Related
Society of Biblical Literature
North American Patristics Society (NAPS)
Association for Jewish Studies (AJS)
Australian Historical Association (AHA)
Page last updated: 2018-01-22
Short url: https://www.acu.edu.au/1273347
Page last updated: 2017-05-31
Short url: https://www.acu.edu.au/1273347