Staff Directory
Dr Kirsten Challinor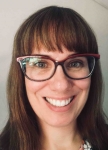 Lecturer
Email

Phone

Organisational Area

Faculty of Health Sciences

Department

School of Behavioural and Health Sciences (NSW)

Location

Strathfield
Building 640 - Edward Clancy Building (167-169 Albert Road, Strathfield NSW 2135)-Ground-Room 640.G.11
My website: kirstenchallinor.com
&nbsp
Dr Kirsten Challinor was awarded a PhD in Psychology from Macquarie University in the area of Vision Science. She has conducted post-doctoral research projects in the&nbspNeuroscience Research Group, Aston University, UK, and also in the Psychology Department at University of Sussex, UK, investigating how humans perceive motion, and how the brain processes the information it receives from the eye.
&nbsp
From 2011to 2016, Kirsten&nbspworked at the&nbspSchool of Optometry and Vision Science at the University of New South Wales, teaching visual perception, psychology, statistics, evidence-based practice and research methods. She&nbspcreated this resource for students:&nbspstatsinfocus.com&nbspand&nbspmanaged a blended learning project in Medicine- improving supervisor training:&nbspclinsupervisor.com. She led the adaptation of this content for Optometry Supervisors:&nbspclinsupervisor.com/optometry. Dr Challinor was a manager for a project improving the use of evidence-based practice in Optometry. See&nbspwww.eboptometry.com.
&nbsp
Currently Kirsten conducts research and teaches at the&nbspAustralian Catholic University at the Strathfield Campus in Sydney, Australia.
Her research programme has two streams:
Vision Science Projects: which seek to further describe and understand the neural mechanisms by which we perceive our world.
Education Projects: that aim to increase skills and knowledge in evidence based&nbspareas using innovative learning and teaching methods for statistics and research methods.&nbsp
Her teaching covers the areas of Perception, Cognition and Neuroscience. In 2019 Dr Challinor supervises 3 Honours, 3 Masters and&nbsp1 PhD student.
&nbsp
Since 2013 Kirsten has taken about 18 months total maternity leave from academia to be the primary carer&nbspof her 2 children. Her &quotreturn-to-work&quot during this period has mostly been on a part-time basis varying between 1 to 3 days per week. In 2019 Kirsten works as an academic on a 60% full time basis.&nbsp
&nbsp
Honorary Associate in Psychology Macquarie University.
Adjunct Lecturer UNSW Australia.
&nbsp
A list of my publications is here:
ORCID ID:&nbsp&nbsporcid.org/0000-0002-1408-4423
Selected Publications
Challinor, K. L., Mond, J., Stephen, I. D., Mitchison, D., Stevenson, R. J., Hay, P., &amp Brooks, K. R. (2017). Body size and shape misperception and visual adaptation: An overview of an emerging research paradigm.&nbspJournal of International Medical Research,&nbsp45(6), 2001-2008.https://doi.org/10.1177/0300060517726440
&nbsp
Khuu, S. K., Honson, V. J., &amp Challinor, K. L. (2015). The Influence of Cast Shadows on the Detection of Three-Dimensional Curved Contour Structure.&nbspPerception,&nbsp45(4).https://doi.org/10.1177/0301006615622323
&nbsp
Suttle, C. M., Challinor, K. L., Thompson, R. E., Pesudovs, K., Togher, L., Chiavaroli, N., &amphellip Jalbert, I. (2015). Attitudes and barriers to evidence-based practice in optometry educators.&nbspOptometry and Vision Science,&nbsp92(4).&nbsphttps://doi.org/10.1097/OPX.0000000000000550
&nbsp
Challinor, K. L., &amp Mather, G. (2010). A motion-energy model predicts the direction discrimination and MAE duration of two-stroke apparent motion at high and low retinal illuminance.&nbspVision Research,&nbsp50(12), 1109&ampndash16.&nbsphttps://doi.org/10.1016/j.visres.2010.04.002
&nbsp
Mather, G., &amp Challinor, K. L. (2009). Psychophysical properties of two-stroke apparent motion.&nbspJournal of Vision,&nbsp9, 1&ampndash6.&nbsphttps://doi.org/10.1167/9.1.28
&nbsp
Meese, T. S., Challinor, K. L., Summers, R. J., &amp Baker, D. H. (2009). Suppression pathways saturate with contrast for parallel surrounds but not for superimposed cross-oriented masks.&nbspVision Research,49(24), 2927&ampndash2935.&nbsphttps://doi.org/10.1016/j.visres.2009.09.006
&nbsp
Meese, T. S., Challinor, K. L., &amp Summers, R. J. (2008). A common contrast pooling rule for suppression within and between the eyes.&nbspVisual Neuroscience,&nbsp25(4), 585&ampndash601.https://doi.org/10.1017/S095252380808070X
&nbsp
&nbsp
Page last updated: 2018-01-22
Short url: https://www.acu.edu.au/1273347
Page last updated: 2017-05-31
Short url: https://www.acu.edu.au/1273347