Staff Directory
Ms Ewa Geba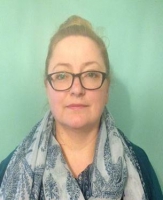 Psychology & Counselling Clinic Director
Phone

Organisational Area

Faculty of Health Sciences

Department

School of Behavioural and Health Sciences (NSW)

Location

Strathfield
Building 641 - Mary Aikenhead Clinic (167-169 Albert Road, Strathfield NSW 2135)-Ground-Room 641.G.02
I joined the ACU School of Psychology in 2015, as Psychology and Counselling Clinic Director at the Mary Aikenhead Clinic in Strathfield. I am a bi-lingual (English/Polish) clinical psychologist registered with AHPRA, and a Psychology Board of Australia approved supervisor for 4+2, 5+1, and clinical master&rsquos programs. I had studied clinical psychology at the University of Gdansk (Poland) and James Cook University (Queensland) and I am currently completing PhD program with ACU Institute for Positive Psychology and Education.
Prior to joining ACU, I had worked for 15 years in the non-government sector, as Principal Psychologist &amp Manager of DSA Specialist Intervention Services. I have more than 25 years of experience (in Australia and overseas) working with children, young people and adults with learning difficulties and complex problem behaviours, as well as providing clinical training and supervision to provisional and registered psychologists.
My professional and research interests are in the areas of:
Child and adolescent clinical psychology&nbsp
Effectivness of brief school-based interventions
Diagnostic assessment and treatment of Autism Spectrum Disorders
Issues affecting&nbsp mental health and wellbeing of parents/carers of children with exceptional needs
Trans-cultural aspects of life transition
I am passionate about providing quality placement and supervision programs for provisional psychologists, as well as broader community psycho-education.
Research Projects:

PhD Thesis:

I'll be OK in Year 7: Role of brief, school-based psychological interventions in a successful transition to secondary school.&nbsp

2019- current own PhD project under supervision of Dr B.Sahdra and A/Prof. P.Parker. ACU Institute for Positive Psychology and Education.

&nbsp

Huynh, A., Geba, E. (2019). Evaluating the Effectivenss of a School-based Transition Program on Reducing Anxiety. Australian Catholic University. Master's Thesis Supervisor
Blair, S., Geba, E. (2017)&nbspAjapa Japa Meditation and the Reduction of Anxiety Symptoms: Exploring its
Effect When Added to Group Therapy in a Clinical Sample. Australian catholic University. Master thesis' supervisor.
&nbsp
Wiese, M.Y., Jeltes, G., Stancliffe, R.J., Dew, A., Howarth, G. and Balandin, S. 2011, Knowing about dying : issues for community living staff providing end-of-life care to older people with intellectual disability, in PsychDD 2011 : Twenty years on : where to from here? : Proceedings of the Association of Psychologists in Developmental Disability Services 2011 conference, Association of Psychologists in Developmental Disability Services, [Sydney, N. S. W.], pp. 1-1. (editor)

Bandaranayake, A., Geba, E. (2005) Identification of training needs for staff in practice of person centred active support. In-house Research Project for Disability Services Australia (project supervisor)&nbsp

Cunneen, N., Geba, E. (2005). Assessing personality types amongst disability support workers (). University of Western Sydney, Australia (master&amprsquos thesis supervisor)
Publications:
Australian Psychological Society (2011) Evidence based guidelines to reduce the need for restrictive practices in the disability sector. APS, Melbourne (member of the working group).
Geba, E., Korzon, T., Koscielniak M. (1996). Psychological aspects of preparation for an oral surgery in children &ampndash outpatients&amprdquo &ampndash &nbspinter-agency research project published in the Journal of Maxillofacial Surgeons, XLIX, 11.
Conference presentations:
2018 - Girls and Women with Autism, presented at the APS Forum: Girls Matter. Parliament House, Sydney.
2016 - Use of psychotropic medication in youg children with ASD presented at the XI Autism Europe Congress, Edinbourgh, UK
2013 &ampndash Assessing and treating adolescents with ASD and specific phobias: a case study, presented at the X Autism Europe Congress, Budapest, Europe
2011 &ampndash Clinical practice guidelines for psychologists recommending use of restricted practices, presented at the PSYCHDD Forum, Sydney
2010 &ampndash Preventing Workplace Violence in a Disability Sector, presented at the National Disability Services Conference, Sydney
2009 - Supporting individuals with ASD through life transitions, presented at the UNSW Autism Expo, Sydney
1987 -&nbsp Dynamics of interactions in the families of children with anxiety disorders (master&amprsquos thesis). University of Gdansk, Poland.
Member of Australian Psychological Society
Member of APS College of Clinical Psychologists
Member of Association of Psychologists in Developmental Disability (PsychDD)
Member of National Association for Dually Diagnosed (NADD)
Current General Registration with AHPRA Psychology Board of Australia (Area of Practice Endorsement: Clinical Psychology)
Current Acreditation by AHPRA/ National Board of Psychology/APS as a Supervisor for 4+2, 5+1, Clinical Master's and Clinical Placement Programs
Page last updated: 2018-01-22
Short url: https://www.acu.edu.au/1273347
Page last updated: 2017-05-31
Short url: https://www.acu.edu.au/1273347